Ancient Armor of the Qamar 
Created by:
Unknown
First used by:
Qamar
Currently in the possession of:
Crab Clan
Nemuranai
The Ancient Armor of the Qamar was a Naga artifact and one of the totems of rank of the naga military leader, the Qamar. It was specially resilient against the taint.
It was believed the armor lay with the last Qamar, Isha, in his hibernation. [1]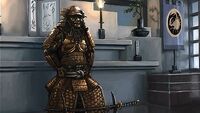 It was later recovered and given to the Crab Clan to protect. [2]
External Links
Edit
References
↑ Prayers and Treasures, p. 180