The Ancestral Armor of the Dragon was a massive, full suit of armor which was worn by the Kami Togashi in his various guises as Dragon Clan Champion. The armor was ruined during the Second Day of Thunder and its remains rested within the High House of Light. [1] The ancient name of this armor has been lost to history. [2]
Restored
Edit
The armor was mended in the 12th century by the Tamori. [2]
Known Wielders
Edit
External Links
Edit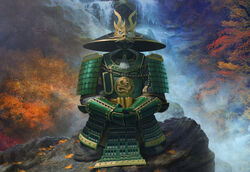 References
Ad blocker interference detected!
Wikia is a free-to-use site that makes money from advertising. We have a modified experience for viewers using ad blockers

Wikia is not accessible if you've made further modifications. Remove the custom ad blocker rule(s) and the page will load as expected.