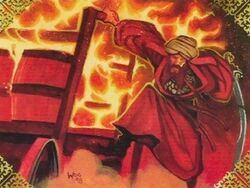 Al'a the Siege-Master was a dahabi of Medinaat al-Salaam.
Al'a worked for a time with the Qolat, the conspirators of Laramun. He realized they were demented and left them, waiting for his revenge. He felt he had treated as a lap-dog by his masters. [1]
Erba'a Alliance
Edit
The time for revenge came in 1132, when the Moto Clan, the Ra'Shari, and the Yodotai, among others, created the Erba'a Alliance. [2] He joined the alliance, and during the Shattering of the Jewel he sent an explosive wagon to the Merchant Quarter [1] to destroy the base of power of the Houses of Dahab, deeply infiltrated by the Qolat. [3]
External Links
Edit
References
Ad blocker interference detected!
Wikia is a free-to-use site that makes money from advertising. We have a modified experience for viewers using ad blockers

Wikia is not accessible if you've made further modifications. Remove the custom ad blocker rule(s) and the page will load as expected.