Akodo Uehara was a bushi tactician of the Lion Clan.
Early Years
Edit
When young Uehara suffered a wound in his shoulder. It healed, but only partially. [1]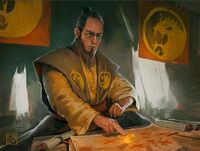 Uehara was appointed as senior sensei of the Akodo War College. [2]
Raiders in the Colonies
Edit
In 1198 the Lion studied the strategies used by the assailants on the Unicorn caravans to the Colonies through the Ki-Rin's Path. Hints of the strategies employed in De Bellis Yoditorum, the Yodotai military book, were found on those attacks by Uehara. [2]
Uehara left the Akodo War College and moved to the colonies, where he joined the Imperial Explorers as a scout. [3] Betrayed by one of his vassals, Uehara was killed [4] in the jungles by a Scorpion assassin. His trademark War Fan was presented by Shosuro Yasumasa to his lord Bayushi Nitoshi. [5]
External Links
Edit
References
Ad blocker interference detected!
Wikia is a free-to-use site that makes money from advertising. We have a modified experience for viewers using ad blockers

Wikia is not accessible if you've made further modifications. Remove the custom ad blocker rule(s) and the page will load as expected.