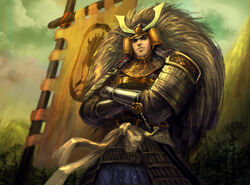 Akodo Tadatoshi was a bushi and magistrate of the Lion Clan.
His grandfather served first as an infantryman, then as an officer, and eventually as a sensei. When the Unicorn invasion of the City of the Rich Frog began the aged samurai protected a tea house alone. Moto Shike, a Unicorn captain, confronted him and died in a duel. The Unicorn left the tea house alone, obeying their captain's final command. Shike's sword remained unclaimed, being no opponent's family, and ultimately his grandfather kept it until his death five years later. The sword passed to Tadatoshi. [1]
War of Dark Fire
Edit
In 1171 Tadatoshi was on duty posting at Kyuden Deni Kai on the Dragon Heart Plain, during the War of Dark Fire. [1]
Army of Fire
Edit
Ikoma Tomoi gave Tadatoshi a map with the size and placement of the various Yobanjin patrols Unicorn scouts had been tracking. They shared the information in hope the Lion could see a pattern. Tadatoshi had studied a copy of De Bellis Yoditorum and recognized the raider tactic. The Army of Fire had used a tactic to hide his true target. They sent a wide range of patrols in order to sow discord and disguise true troop movement. One area where there should be a larger patrol, but there was not, leading to Shiro Mirumoto. One of the patrols marching towar the keep was defeated by the Lion forces. [1]
External Links
Edit
References
Ad blocker interference detected!
Wikia is a free-to-use site that makes money from advertising. We have a modified experience for viewers using ad blockers

Wikia is not accessible if you've made further modifications. Remove the custom ad blocker rule(s) and the page will load as expected.