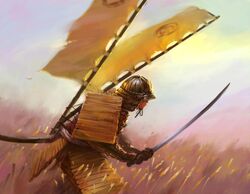 Akodo Shinichi was a bushi tactician of the Lion Clan.
Shinichi had an instinctive grasp of both strategy and tactic, consequence of his lineage, which could be traced to the first followers of Akodo. He believed himself superior because of his ancestry, and he treated others with condescension, so he remained without friends for most of his life. [1]
Khan's Defiance
Edit
During the Khan's Defiance Shinichi was one of the soldiers stationed at Toshi Ranbo in 1169 and was one of the first wittnesses to the arrival of the Unicorn army. [2]
Defending Toshi Ranbo
Edit
Shinichi fought against the Unicorn in the Battle of Toshi Ranbo, but his fate at the battle was unknown for a time. [3]
March to Shiro Moto
Edit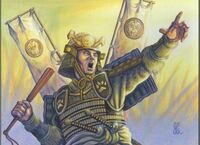 In 1170 Shinichi proved his worth on the March to Shiro Moto. His superiors watched him with expectant eyes, wondering if he will shape up to be another Kitsu Motso or Akodo Ijiasu. [4] The Lion Clan Champion had a great opinion on his keen eye for strategy, as a prepared man for greater responsabilities. [5]
See also
Edit
External Links
Edit
References
Ad blocker interference detected!
Wikia is a free-to-use site that makes money from advertising. We have a modified experience for viewers using ad blockers

Wikia is not accessible if you've made further modifications. Remove the custom ad blocker rule(s) and the page will load as expected.