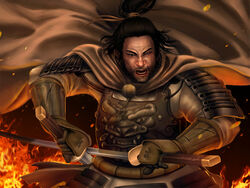 Akodo Seiichi was a samurai of the Lion Clan.
Khan's Defiance
Edit
Fighting the Unicorn
Edit
In 1169 Seiichi commanded the Lion forces who seized the Unicorn village of Tsurai Mura as part of the Lion retribution for the Khan's Defiance. His field commander, Akodo Shunori, wiped out the defenders. [1]
Banished from the Capital
Edit
Seiichi was stationed with his legion in Toshi Ranbo in 1169. Seiichi expressed his dislike of being stationed there while the main Lion army was assaulting the Unicorn, but Akodo Setai pointed out that the legion would most likely see action against the Mantis present in the capital. Not long after a fight broke out between a handful of Akodo and Mantis, escalating severely. Both the Mantis and Lion were banished from the capital by the Phoenix. [2]
Shinomen Burns
Edit
Seiichi was part of the Lion borrowed to the Shogun Moto Jin-sahn to drive out the Spider Clan from the Shinomen Mori. The forest was set to fire by the Daigotsu's followers to cover their scape. [3]
Hida Kashin
Edit
Seiichi killed Hida Kashin in a duel in 1171. [4]
Destroyer War
Edit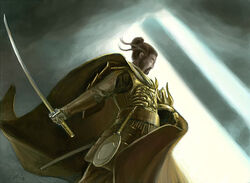 In 1172 Seiichi was outside Ryoko Owari during the Destroyer War fighting the God Beast of Kali-Ma and its spawn. [5]
The exact fate of Seiichi was unknown but he was dead before the end of the 12th century. [6]
External Links
Edit
References
Ad blocker interference detected!
Wikia is a free-to-use site that makes money from advertising. We have a modified experience for viewers using ad blockers

Wikia is not accessible if you've made further modifications. Remove the custom ad blocker rule(s) and the page will load as expected.