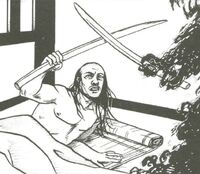 Akodo Riawa ws a bushi of the Lion Clan, follower of Akodo Teihon. During his time at Zocho Shrine Riawa bought a magical boken for training, calling the item Uke. Every day the boken awakened Riawa until the samurai defeated it, to raise again the next morning stronger than before. After several weeks Riawa saw the shadowy outline of the monster guiding the sword. He was so harmed by the boken that he ahd to be fed by servants, his hands numbed. Riawa desperately request aid to his Lord to end his curse, or permission to commit seppuku. [1]
References
↑ Bearers of Jade, pp. 71-73
Ad blocker interference detected!
Wikia is a free-to-use site that makes money from advertising. We have a modified experience for viewers using ad blockers

Wikia is not accessible if you've made further modifications. Remove the custom ad blocker rule(s) and the page will load as expected.