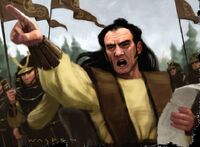 Akodo Natsu was a bushi tactician of the Lion Clan.
War of the Rich Frog
Edit
In the War of the Rich Frog Natsu was under the command of his uncle. When his legion was decimated and Natsu's uncle died, Natsu took its command. [1]
Dragon Border Conflict
Edit
The Lion had been lost a war, and its leader. The new Lion Clan Champion Ikoma Otemi believed the Lion needed a leader who would inspire them, a hero. In 1167 the ronin leaders of a broken peasant uprising had been fleed to Dragon lands. Otemi appointed Natsu as a Taisa and gave him command of a Lion legion stationed on the Castle of the Swift Sword, to pursue the ronin. He should request free pass to the Dragon, and after his expected refusal to begin a conflict. The Empire would learn to respect the Lion once more, even if the cost would be measured in Dragon lives. [1]
Opinion about Enlightenment
Edit
The quest for Enlightenment was a false path for Natsu. As a historian, he had delved deeply into the scriptures and found nothing to support the outlandish claims of those who said that they had found Enlightenment. Enlightenment was an intensely personal quest, an individual struggle for understanding that rarely succeeded. [2]
Khan's Defiance
Edit
In 1169 Natsu fought at the Battle of Toshi Ranbo. His unit had killed that of the gunso Utaku Fujiko, and he was about to kill Fujiko himself when the Phoenix army arrived and separated the fighting forces throughout the city. [3]
Banished
Edit
In the Month of the Rooster Natsu and Akodo Katsumoto enjoyed the sake at the Liquid Pearl sake house. A fight broke out between Natsu, Katsumoto and Tsuruchi Amaya outside the sake house, which escalated severely resulting in the banishing of both the Lion and Mantis from the capital by the Phoenix. [4]
External Links
Edit
References
Ad blocker interference detected!
Wikia is a free-to-use site that makes money from advertising. We have a modified experience for viewers using ad blockers

Wikia is not accessible if you've made further modifications. Remove the custom ad blocker rule(s) and the page will load as expected.