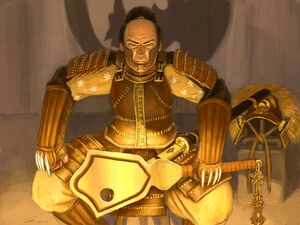 Akodo Mirotai a tactician and general of the Lion Clan.
Dawn of the Empire
Edit
Mirotai was one of the first followers of the Kami Akodo. [1] He was selected to replace one of Akodo's men that had been struck with fever and accompany Akodo on his hunt of the Kitsu. During the final battle against the creatures Mirotai looked into the eyes of the Kitsu leader and realized the truth: kitsu were peaceful and intelligent creatures who had once ruled Rokugan and sacrificed much of their civilization to defeat an ancient threat similar to Fu Leng. Mirotai refused to attack the kitsu and was scorned by Akodo. However, Akodo himself came to the same realization after being defeated in single combat by the creatures' leader.[2]
"I cannot kill this creature. It is not for the likes of me to end its life." "
-Mirotai
External Links
Edit
References