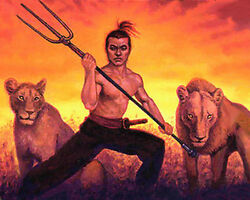 Akodo Michio was a bushi and beastmaster of the Lion Clan.
Beastmaster
Edit
Michio was one of a half dozen Beastmasters known to history who were not of Matsu blood. His talents were discovered months before his gempukku, when a wandering bear appeared and killed his patrol leader and tvo of Michio's fellow students. The beast halted its charge when it crossed eyes with Michio, who in turn slit the bear's throat. Michio was transferred to Shiro Matsu, and introduced to the Matsu Warcats, which accepted him without complaint. Michio demonstrated a strong bond with animals, and developed an affinity for the Magari-Yari. [1]
See also
Edit
External Links
Edit
References
Ad blocker interference detected!
Wikia is a free-to-use site that makes money from advertising. We have a modified experience for viewers using ad blockers

Wikia is not accessible if you've made further modifications. Remove the custom ad blocker rule(s) and the page will load as expected.