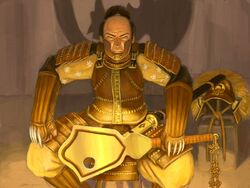 Akodo Makotai was a bushi commander and tactician of the Lion Clan.
Colonies
Edit
In 1198 Makotai and an aged Ikoma while they were exploring in the Colonies stumbled upon a buried temple, where they began to lose their memories. He managed to get out of the building before they both lost their minds permanently. [1] He was stationed at Kalani's Landing, where he played games of go with the more skilled Yoritomo Hameko. [2]
External Links
Edit
References
Ad blocker interference detected!
Wikia is a free-to-use site that makes money from advertising. We have a modified experience for viewers using ad blockers

Wikia is not accessible if you've made further modifications. Remove the custom ad blocker rule(s) and the page will load as expected.