Akodo Kuemon was a bushi and tactician of the Lion Clan.
Soko-meijin
Edit
Kuemon, shireikan of the Akodo Army, [1] was the once the soko-meijin, or shogi grand master. He would hold the position until his death or he turned forty years old. [2]
Enlightenment
Edit
During the time when the Empire was seeking enlightenment, Kuemon chose his duty over his wish to seek enlightenment. [3]
External Links
Edit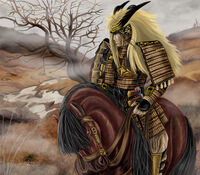 References
↑ Masters of War, p. 71
↑ Legend of the Five Rings; Third Edition, p. 32