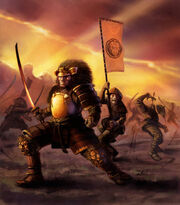 Akodo Katsumoto was a bushi of the Lion Clan.
Banished from Toshi Ranbo
Edit
In 1169 he and Akodo Natsu started a fight with Tsuruchi Amaya outside the Liquid Pearl sake house, which escalated severely. Both the Mantis and Lion were banished from the capital by the Phoenix following the event. [1]
Shiro sano Ken Hayai
Edit
Katsumoto represented his Lord Akodo Nakama during his absences at the Castle of the Swift Sword. In 1170 the castle had two new students for the Akodo War College, Kakita Nakazo and Shinjo Dun. The Lion Clan Champion Akodo Shigetoshi ordered they had to be treated as any other student there. [2]
Lion Clan Army
Edit
Katsumoto was Taisa of the Thirty-Third Legion of the Lion Clan Army. [2]
External Links
Edit
References
Ad blocker interference detected!
Wikia is a free-to-use site that makes money from advertising. We have a modified experience for viewers using ad blockers

Wikia is not accessible if you've made further modifications. Remove the custom ad blocker rule(s) and the page will load as expected.