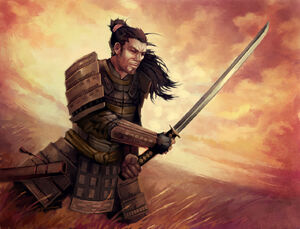 Akodo Kakihara was a bushi of the Lion Clan. He was considered a paragon of Bushido.
Musha Shugyo
Edit
After Kakihara passed his gempukku he asked to be on Musha Shugyo, and after one year he continued. [1] He travelled to every corner of Rokugan because he believed that his duty to the Empire required him never to stay in one place too long, as that would mean he was serving one region more than any other. [2] During his journey he met Togashi Hizumi in the lands of the Ikoma, and spent some time learning from the ise zumi. [3]
External Links
Edit
References
Ad blocker interference detected!
Wikia is a free-to-use site that makes money from advertising. We have a modified experience for viewers using ad blockers

Wikia is not accessible if you've made further modifications. Remove the custom ad blocker rule(s) and the page will load as expected.