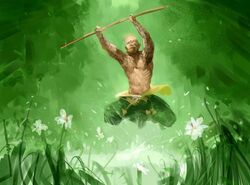 Akodo Kaiteru was a scout and the son of a samurai in Akodo's armies. Despite his sensei Akodo Hitoshi attempting to dissuade him, he left the Lion Clan and climbed the mountains of the Dragon Clan seeking his true purpose. On his journey he encountered Mirumoto and Agasha but declined to study with either of them and continued his journey. In the end he encountered Togashi-kami himself and joined the Dragon Clan becoming Togashi Kaiteru. [1]
"I have come with your answer. I have come to show you the path of mortals, Togashi."
-Kaiteru
External Links
Edit
References
Ad blocker interference detected!
Wikia is a free-to-use site that makes money from advertising. We have a modified experience for viewers using ad blockers

Wikia is not accessible if you've made further modifications. Remove the custom ad blocker rule(s) and the page will load as expected.