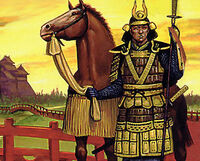 Akodo Jusho was a bushi an Emerald Magistrate of the Lion Clan.
Jusho was the chief Emerald Magistrate for the Akodo provinces and a former student of Akodo Hirotsu. He was sent to Rengai Mura, a place where he demonstrated himself as an honorable and just servant of the Empire. Jusho was also extremely bored, because he was also a man of action. [1]
Destroying the Dragonfly
Edit
Jusho was briefly called from his post to join the assault on Kyuden Tonbo, but the moments of glory only served to heighten his boredom. [1]
External Links
Edit
References