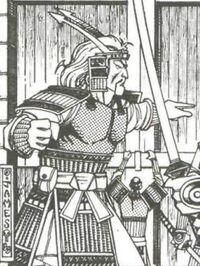 Akodo Isebo was a bushi of the Lion Clan.
Demeanor
Edit
Isebo was a congenial man who listened everyone's opinion carefully, which allowed him to easily make allies. [1]
Isebo was appointed at Shiro no Yojin. In 1122 the fortress was attacked by the Crane in the Battle for Shiro no Yojin. Isebo became the commanding officer after the death of Akodo Hogite, killed by an arrow. [2] The Crane general was killed in personal duel by Isebo. [1] Reinforcements under the command of Daidoji Uji arrived, and the Lion were outnumbered twenty to one odds. The Legacy of the Forge, fighting warriors of Toshigoku, were unleashed upon the battlefield, possessing the combatants, including Isebo. With the Lion and the Crane becoming one fighting force trying to extinguish itself, the objective of claiming the castle became unimportant. [3]
See also
Edit
References