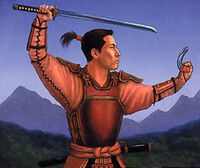 Akodo Hakuseki was a bushi of the Lion Clan.
Hakuseki's father was an Akodo who swore fealty to the Kitsu when the Akodo family was dissolved after the Scorpion Coup. He met and married a young Kitsu samurai-ko, only to return to the Akodo when the family was reinstated. Hakuseki was exposed to the philosophies of both families. [1]
Hakuseki was assigned as Lion Warden to the outpost at Ninkatoshi. He was an idealistic man, eager to prove his worth to his ancestors. [1]
External Links
Edit
References