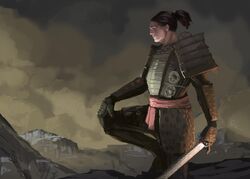 Akodo Dosei was a bushi, paragon, and commander of the Lion Clan.
War of Honor
Edit
Bayushi Saka and Bayushi Hikoko provoked a conflict [1] with the Lion. [2] The Scorpion had attacked an Imperial ambassadorship caravan [3] near a Crane village, and the assailants had planted a dagger [4] with the Matsu mon. [5] Saka considered Dosei a straight-laced buffoon who had no inkling what was really going on there. By the time he realized it, it would all be over. [6] Matsu Fumiyo considered a blasphemy that a Lion's blade was found at the scene of a crime. [7] The Dragon revealed the truth, however, and the Scorpion were exposed. [8] A Lion army was given an opportunity to avenge a debt of honor. [9] The Phoenix meddled to stop the fight among both clans, [10] as well as the Dragon. [11] It was a dispute between two clans, with two more involved in a misguided attempt to mediate. [12] Disagreements between the clans caused great chaos and discord, but the situation ultimately benefited the Imperial families in one way or another, [13] and they had permitted the war to begin, as they provided the Scorpion the planted item. [14]
External Links
Edit
References
Ad blocker interference detected!
Wikia is a free-to-use site that makes money from advertising. We have a modified experience for viewers using ad blockers

Wikia is not accessible if you've made further modifications. Remove the custom ad blocker rule(s) and the page will load as expected.