Akodo Dairuko
Talk

0
21,321pages on
this wiki
Akodo Dairuko, the Steel Lion, [1] was the daughter of Akodo Shigetoshi, the Lion Clan Champion, and Akodo Hiroko. She was a paragon of Bushido and tactician.
Training
Edit
Dairuko trained with the Lioness Legion and was a personal student of Matsu Kenji. [2]
Lion Clan Champion
Edit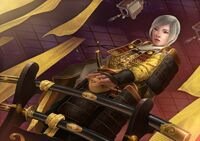 In 1178 her elder brother Akodo Shinjiro became the Lion Champion after their father's retirement. [3] In 1198 he was killed by Shinjo Min-Hee as revenge for her father Shinjo Shono's death at the hands of Shigetoshi during the Lion's march on Shiro Moto in 1170. Dairuko's second brother, Akodo Kano, refused to become the new champion, and passed the duty on to the third and youngest child, Dairuko. [4] As champion Dairuko announced she was glad that her brother died a warrior's death, and she was confident honor was satisfied. [5]
Dairuko had favored the blade given her at her gempukku by Matsu Kenji, but eventually the Kitsu Kagako aided her to remove her doubts about to wield Shinrai, the Celestial Sword of the Lion. [6]
Yodotai Threat
Edit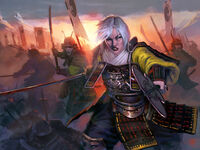 The Unicorn sought satisfaction among the court of the Second City, and they received the mediation of the Kitsuki to see if the Lion struck them without provocation in the Ki-Rin's Path. In the Imperial Court the Scorpion Clan Champion Bayushi Nitoshi sought a reprimand to the Lion on behalf of the Unicorn, requesting to know why the Lion attacked. The Empress Iweko I wished to remain the Lion motivations in secrecy, and allowed them to do their own duty without interference. Dairuko realized that Nitoshi, Champion of the clan of secrets, had not discovered the Yodotai threat. [7]
Chasing Legulus
Edit
Dairuko ordered her forces to chase the Yodotai commander, Legulus. [8]
External Links
Edit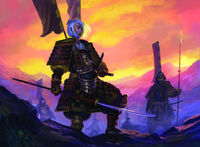 References