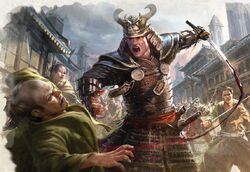 Akodo Daiken was a bushi of the Lion Clan.
A Matter of Honor
Edit
Daiken was involved in the skirmishes against the Crab regarding the appearance of an Oni in the Lion lands, which was blamed as a Crab faulty. [1]
Colonies
Edit
In 1199 Iweko Seiken had seized control of the Second City, and Daiken was among his advisors there. The Imperial Heir announced his belief that the Imperial Bureaucracy proved itself a hindrance to Imperial rule, not an asset. He told that after his appointment as Emperor all samurai would be required to live for one year in a rural village, if they wished to hold any significant imperial office. [2]
External Links
Edit
References
Ad blocker interference detected!
Wikia is a free-to-use site that makes money from advertising. We have a modified experience for viewers using ad blockers

Wikia is not accessible if you've made further modifications. Remove the custom ad blocker rule(s) and the page will load as expected.