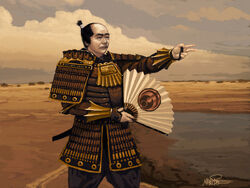 Akodo Anshiro was a bushi duelist and tactician of the Lion Clan. He attained the status of enlightenment.
The Kami Akodo decreed that the Lion clan should never open their copy of the Tao, but that they should dedicate themselves to Bushido instead. Indeed, each Lion dojo, had a copy of the Tao that had remained sealed. Enlightenment was rare among the Lion, as they favored to study bushido over the Tao. [1]
Anshiro received a copy of Leadership from an old acquaintance, with many notations from an unknown author. Anshiro was asked to investigate and see what he could discover about the authors origins. When Anshiro read it he realized the book was not Leadership, but a strange combination of Leadership and the Tao. Anshiro later learned the book had not been sent by his friend. [2] At this time he was a Legion Commander of the Akodo Army. [3]
Enlightenment
Edit
In 1168 during the War of Silk and Steel Anshiro was stationed on the Righteous Heart Dojo. He told to a Wanderer about he had read the Tao without preconception, to recognize its wisdom without bias, and it had been most enlightening. [2]
External Links
Edit
References
Ad blocker interference detected!
Wikia is a free-to-use site that makes money from advertising. We have a modified experience for viewers using ad blockers

Wikia is not accessible if you've made further modifications. Remove the custom ad blocker rule(s) and the page will load as expected.