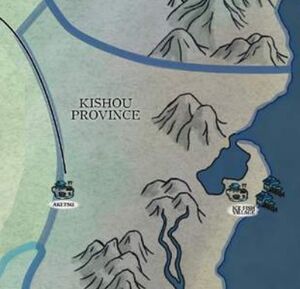 Aketsu (CN10) in the Kishou province [1] was an important trading post for the Crane Clan, often offering unusual items brought to the mainland by the Mantis Clan. Silks, fabrics amd stones could be found here, but nowhere else in the Empire. [2] Aketsu was only lightly fortified, because of Daidoji Yukan-se's proximity to the north. The ronin of Daidoji Yukan-se were eager to wipe any bandit gang out. [3]
Kolat Hideout
Edit
It was once whispered that the Kolat had a secret haven here, but Doji Magistrates searched extensively and found no such hideaway. [2] The Silken Sect maintained a small presence in the city to monitor the flow of trade in the local Golden Turtle Trading Grounds and nearby Samui Kaze Toshi. [4]
Known Governor
Edit
References
Ad blocker interference detected!
Wikia is a free-to-use site that makes money from advertising. We have a modified experience for viewers using ad blockers

Wikia is not accessible if you've made further modifications. Remove the custom ad blocker rule(s) and the page will load as expected.