Ad blocker interference detected!
Wikia is a free-to-use site that makes money from advertising. We have a modified experience for viewers using ad blockers

Wikia is not accessible if you've made further modifications. Remove the custom ad blocker rule(s) and the page will load as expected.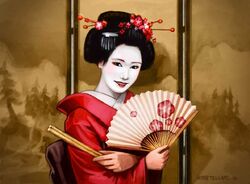 Akenohoshi, the Dancer, was an artisan and geisha. She was known as the Morning Star, in many ways the ideal geisha, a beautiful and talented young woman who was the star of her house. Charming and a skilled conversationalist, Akenohoshi had no one special talent that stood out and distinguished her above all others. [1]
Sources Conflict
The sources relating to this article are in conflict with each other.
Mai-Star depicted Akenohoshi in the card, but named her Akenoshi in the rulebook, a typo. Oni no Pikachu (talk) 11:48, September 7, 2014 (UTC)
External Links
Edit
References