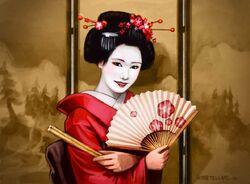 Akenohoshi, the Dancer, was an artisan and geisha. She was known as the Morning Star, in many ways the ideal geisha, a beautiful and talented young woman who was the star of her house. Charming and a skilled conversationalist, Akenohoshi had no one special talent that stood out and distinguished her above all others. [1]
Sources Conflict
The sources relating to this article are in conflict with each other.
Mai-Star depicted Akenohoshi in the card, but named her Akenoshi in the rulebook, a typo. Oni no Pikachu (talk) 11:48, September 7, 2014 (UTC)
External Links
Edit
References
Ad blocker interference detected!
Wikia is a free-to-use site that makes money from advertising. We have a modified experience for viewers using ad blockers

Wikia is not accessible if you've made further modifications. Remove the custom ad blocker rule(s) and the page will load as expected.