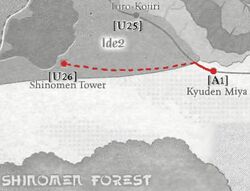 Akasha's Path was the road that connected Shinomen Tower (U26) to Kyuden Miya (A1). This long road was rarely traveled by anyone outside of Unicorn patrols and the occasional scholar interested in studying the Naga. [1]
References
↑ Secrets of the Unicorn, p. 29
Ad blocker interference detected!
Wikia is a free-to-use site that makes money from advertising. We have a modified experience for viewers using ad blockers

Wikia is not accessible if you've made further modifications. Remove the custom ad blocker rule(s) and the page will load as expected.