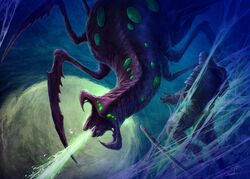 Akaru no Oni, the Web Lord, was an oni of the Shadowlands. [1]
Appearance and Abilities
Edit
Akaru no Oni was a ponderous and massive demon, which resembled spiders, with long segmented bodies and dozens of jointed legs. They were not very mobile, and prefered to lair in rocky recesses to prey on those who passed through the area. The oni waited its trapped victims to grow weak in their webs before feasting on it. [1]
See also
Edit
External Links
Edit
References
Ad blocker interference detected!
Wikia is a free-to-use site that makes money from advertising. We have a modified experience for viewers using ad blockers

Wikia is not accessible if you've made further modifications. Remove the custom ad blocker rule(s) and the page will load as expected.