The Lake of Shining Glass was renamed as the Red Lake after the Battle of the Hour of the Wolf [1] near the Kawa sano Okami Jikan. The blood from the battle ran into the river and the river into the lake. Months later, the lake was still as red and thick as blood. On the anniversary of the battle, the water in the lake turned red again, and blood washed up on the shore. [2] [3]
Once it was fished by the peasants of three clans and was a popular spot for young samurai couples to enjoy the serenity of nature, but not anymore. [4] Ghosts were said to walk the surface of the lake. Because of this unrest, no Kitsu visited the lake. However, if in great need it the wandering dead of Aka Mizu-umi were called forth, which arose only in spirit, than to summon those of nearby Lake of Sorrows, where the rotting corpses walk the salty marsh around the blackened lake. [5] One of the most famous was the Wailing Woman, of unknown origin. [6]
External Links
Edit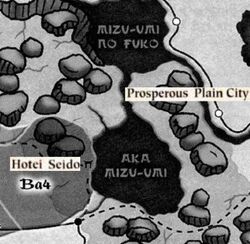 References
Ad blocker interference detected!
Wikia is a free-to-use site that makes money from advertising. We have a modified experience for viewers using ad blockers

Wikia is not accessible if you've made further modifications. Remove the custom ad blocker rule(s) and the page will load as expected.