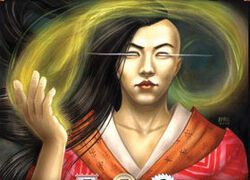 Agasha Seruma was a void Ishiken shugenja of the Phoenix Clan.
One of very few Ishiken born in the Empire during the middle twelfth century. [1] Seruma was a great mistery of the the void. She emerged a generation after Shiba Ningen the Master of the Void at the time. This was the first time known that two Ishiken emerged from other families than Isawa in back to back generations. It was rare to get more then one Ishiken to be born in a generation even in the Isawa Family line. [citation needed]
External Links
Edit
References
Ad blocker interference detected!
Wikia is a free-to-use site that makes money from advertising. We have a modified experience for viewers using ad blockers

Wikia is not accessible if you've made further modifications. Remove the custom ad blocker rule(s) and the page will load as expected.