Agasha Ryo was a shugenja acolyte of void of the Phoenix Clan.
Demeanor
Edit
Ryo's mother was an Asahina and she grew up to embrace her mother's peaceful ideals. She rarely left her temple home. [1]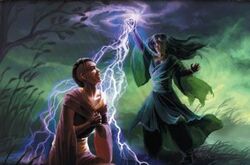 Controversy spread with the death of Agasha Ryo in 1199. While her kin claimed that she was killed by Moshi Rukia when Ryo attempted to mediate a conflict between the Mantis and a Kakita that had taken sanctuary within one Phoenix temple in the Colonies, there was testimony of Sparrow Clan Champion Suzume Ryosuke that winter snows had trapped Rukia in the Suzume Hills. [2]
External Links
Edit
References