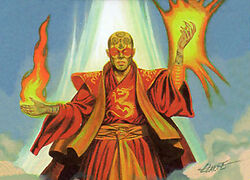 Agasha Heizo was a Shugenja of the Dragon Clan.
Training
Edit
Heizo spent one summer in the Phoenix lands, student to the Master of Fire, Isawa Tsuke himself. The two held detailed correspondence throughout Heizo's training, and it was instrumental to master a deadly ability with the Fire magic. Heizo maintained firm control over the destructive magics he wielded, with a clearer grasp of his duties and a knowledge of his own limit. [1]
Naga Attack
Edit
Heizo was a member of a force led by Mirumoto Sukune, who were forced to retire when the Naga marched against Hitomi. [2]
See also
Edit
External Links
Edit
Sources Conflict
The sources relating to this article are in conflict with each other.
Clan War: Dragon Army Expansion page 40 claims Heizo was a student of Tadaka. Tsuke remains because appearance of Heizo fits more with a Fire shugenja. Oni no Pikachu (talk) 20:39, September 10, 2015 (UTC)
References
Ad blocker interference detected!
Wikia is a free-to-use site that makes money from advertising. We have a modified experience for viewers using ad blockers

Wikia is not accessible if you've made further modifications. Remove the custom ad blocker rule(s) and the page will load as expected.