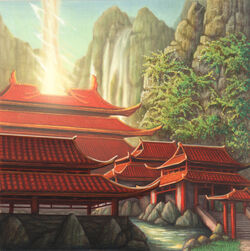 The Agasha Foundries were the newly built foundries after the Agasha defection, and the original Agasha Foundries were renamed Tamori Foundries. Their new capital Kyuden Agasha was built on a great cliff overlooking the sea. The cliffs beneath the castle were riddled with large natural caves, and the Agasha moved their more controversial laboratories into the depths beneath the castle, into a particularly large cave in the cliff face overlooking the sea. The workers must climb the cliff or use magic to enter and leave. [1]
Known Masters of the Foundry
Edit
External Links
Edit
References
↑ Secrets of the Phoenix, pp. 16-17
Ad blocker interference detected!
Wikia is a free-to-use site that makes money from advertising. We have a modified experience for viewers using ad blockers

Wikia is not accessible if you've made further modifications. Remove the custom ad blocker rule(s) and the page will load as expected.