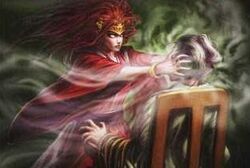 Agasha Asai was an earth shugenja and inquisitor of the Phoenix Clan.
Training
Edit
Asai was trained in the Isawa Shugenja school learning the ways of the earth that sung to her as a child. She proved to have sharp mind and great deductive reasoning in her training which drew the interest of the Jade Magistrates. She had a nack for finding infiltrators and spies. [citation needed]
Seeking Fosuta
Edit
Asai was one of the Inquisitors tasked to find the traitor Isawa Fosuta, who had became the tainted Onyx Champion. [1]
Seeking Daigotsu
Edit
In 1171 the Empress Iweko I announced at winter court that she was suspending the edict demanding the immediate execution of Daigotsu, and demanded that he be brought before her. Asako Katashi commanded Asako Serizawa and Asai to join the Master of Air Isawa Mitsuko in her quest to find the Dark Lord before any other could reach him. [2]
Shiba Morihiko was appointed as yojimbo of Asai. [3]
Black Scroll
Edit
In 1170 a new Black Scroll had appeared in the Empire, the Essence of Destruction, created after Kyoso no Oni was bound to it. In 1172 it was researched by Isawa Yutako, who passed regular controls with Agasha Asai. If Yutako's soul was risked with the taint, Isawa Toshiji had to execute her. After Yutako successfully passed one of the tests she discovered the scroll was not the one she expected, it was an older one already opened and planted by a third party to cover the theft of the original. [3]
External Links
Edit
References
Ad blocker interference detected!
Wikia is a free-to-use site that makes money from advertising. We have a modified experience for viewers using ad blockers

Wikia is not accessible if you've made further modifications. Remove the custom ad blocker rule(s) and the page will load as expected.