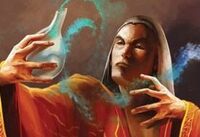 The Agasha Alchemist, also known as Agasha Ikakeya, [1] were alchemists who learned how the elements combine in different forms in nature, creating the Mizugusuri, Kagaku, and other technical arts. [2] They used the bubun language to help to describe how the elements were part of all things, animate or inanimate. [3] The Isawa disapproved of such research and much of this was abandoned when the Agasha defected to the Phoenix Clan. [4]
Known Techniques and Feats
Edit
References
Ad blocker interference detected!
Wikia is a free-to-use site that makes money from advertising. We have a modified experience for viewers using ad blockers

Wikia is not accessible if you've made further modifications. Remove the custom ad blocker rule(s) and the page will load as expected.