Achirin was a Nezumi Shaman of the Third Whisker Tribe. He attained the status of enlightenment.
Enlightenment
Edit
Achirin was a seer, blessed (or cursed) with foresight, allowing him to see glimpses of Tomorrow. [1]
Keeping his Legacy behind
Edit
The nezumi were aware that they had to face Tomorrow, but they wished to let his legacy behind. In 1169 they took their Memory sticks which chronicled all their history, and came near the Shadowlands. Nem'tek lured a goblin into hole which led into a tomb, caught him with a net and hit on the head with a heavy club. Achirin performed a powerful ritual that gave the goblin a Name. The bakemono, Skirk, become Sk'rk, a nezumi. They tasked the new nezumi to keep their sticks safe within the tomb, and started their trek back to the Shinomen Forest in order to join with the rest of their kind to face Tomorrow. [2]
Tomorrow
Edit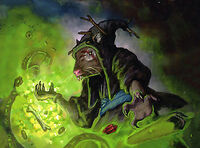 Kan'ok'ticheck led the forces of the One Tribe into Yume-do to protect the Nezumi Transcendents. [3] In the nezumi's final battle, the Battle of Tomorrow, Achirin led a group of shugenja against the Dragon of Air. [4] They succeed, but all the nezumi involved were trapped in Yume-do. For Rokugan the nezumi had ceased to exist. [3]
External Links
Edit
References
Ad blocker interference detected!
Wikia is a free-to-use site that makes money from advertising. We have a modified experience for viewers using ad blockers

Wikia is not accessible if you've made further modifications. Remove the custom ad blocker rule(s) and the page will load as expected.