A Prophecy is a fiction printed in The Way of the Unicorn. It was written by Edward Boulme and Andrew Heckt. The story is a continuation of The Mind of a Unicorn.[1]
Annotated Story
Edit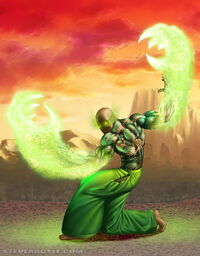 Hantei is consulting his brother, Togashi. Hantei is expressing regret for giving Shinjo permission to see their brother, Fu Leng. Togashi tells Hantei that Shinjo would have gone with or without Hantei's permission and not to regret his decision, as regret is a sin. Togashi also tells Hantei that Shinjo would be unable to fight alongside her siblings if she had not first discovered the reason for Fu Leng's assaults on Rokugan.[2] When Hantei tells Togashi that he feels as if he has sent Shinjo to her doom, Togashi tells Hantei that Shinjo will always return, for such is her nature.[3]
To be continued in: The Weight of the Promise
Characters
Edit
Present But Not Mentioned
Edit
References
Edit
Ad blocker interference detected!
Wikia is a free-to-use site that makes money from advertising. We have a modified experience for viewers using ad blockers

Wikia is not accessible if you've made further modifications. Remove the custom ad blocker rule(s) and the page will load as expected.